We asked the SS to unlock the house on Saturday so that hubby could put on the face plates and patch in all the network cables. (There is likely a correct way to say that, but you get what I mean)
He has grouted the main bathroom. I almost cried when I saw it.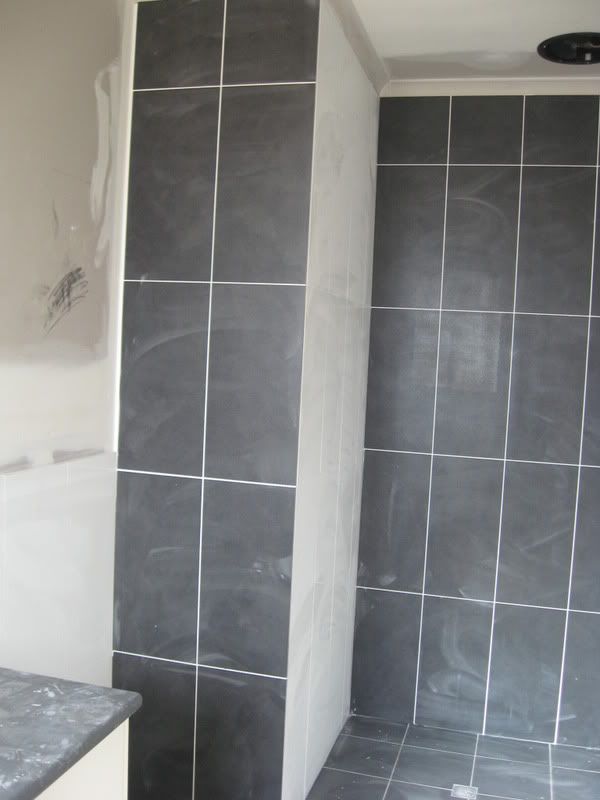 Bright white grout! Bright white!! The whole point of the feature wall is ruined.
He hasn't done the main bathroom yet, I am wondering if I should buy him some charcoal grout and give it to the tiler to do the main bathroom feature tiles with, and maybe see if he can do a layer over top of the ensuite.
Or maybe a grout pen? Or maybe dig it all out with a grout chisel thing and re-grout it ourselves later on.
Hubby thinks it looks great!!! He thinks it really shows of the dark tiles???!!!??? I am going to have to take him back up to Blackwood park and show him the display homes I was trying to mimic.
There was a plasterboard guy working on Saturday, he was sanding all the walls down ready for the painters. Apparently when the painters finish on the house over they are going to start on ours.
The tiler said he is going to be back on Wednesday to finish up.