So went up to the house on the way home and saw the porch had been tiled.
There looks to be lots of glue under the tiles
What I don't get is this gap near the front door?? As he has cut the tiles all short.. What on earth is going to go there if not tiles?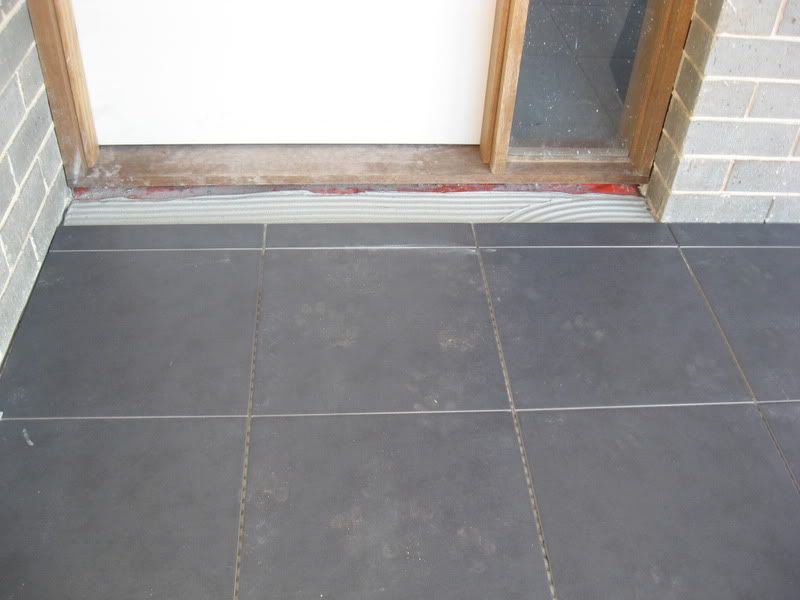 Going around the side of the house I noticed these tiles outside the laundry door, so I think he is going to do the laundry floor next.
But he must have done something, either our bathroom or the kids, because look at all these cut tiles in the skip!! They are definately NOT the front porch tiles, they are thick porcelain tiles from somewhere in the house.
So I am getting up early tommorow to go up the house and try and catch the tiler.
Tell me how bloody hard is it to deliver a pallet of bricks?? I mean seriously!!
It looks like the guy has just dropped them of the fricken truck, ffs. Hopefully there are enough unchipped ones to finish the last of the wall.
There was also this in front of the garage next to the skip
If you're going to dump rubbish, dump it in the darn skip, don't go "hmm this is a nice basket someone might want it, I'll leave it on the ground" put it in the bloody skip. I'm to scared to open it, my first thought was that it looks like a snake charmers basket. I might use a long stick tommorow and see what is in it.
This is a sneaky photo taken inside a Medallion display home in Blackwood. This is the display home that I have based alot of my colour selections on.
See why I have to have the dark carpet. I have this vision, and dark carpet is part of it.
So I went back to the carpet shop today, and met up with
secondhomebuilder
(from the Homeone Forum) to give her my Hickies Colour Selection book.
I got the dark carpet from the Cedar Park range. It is about $10 a mtr more expensive then the one I originally picked 
I bought it home to hubby and he likes it. So now to see if I can sweet talk the sales lady down a bit in price for me.
Our neighbours son-in-law has given us a good quote on doing some tiling for us. He said that he could get tiles at good rates from Beaumonts, so we picked out this white alabaster tile, that again didn't really sit well with us. The tiler said he could get this tile for x amount. There is a tile we love from Italia tiles, so I think I might go for a bit of a drive tommorow and see if I can get it reduced a little. (It is $20sqmtr more) We might just have to paint the concrete and tile later. But here is the tile, the carpet my kitchen benchtop (White Valencia) and kitchen cupboards (Charcoal) together.